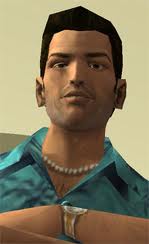 &nbsp

Tommy Vercetti, born in 1949 to American mother and Italian-American father in Liberty City, is the playable character of Grand Theft Auto: Vice City. forelli is sent to prison during the 70's in Liberty City for multiple homicide, earning him the nickname, "The Harwood Butcher" Tommy was brought up in the Portland area of Liberty City his mother passed away when he was 11 his family didnt have much connections to the mafia only his father who was Italian-American, but chose to ignore his relatives and was very determined to make sure his son ignored their lifestyles also, but that didnt turn out to be the case with various connections with the Forellis,Tommy started working for them at the age of just 20.
Height: Tommy vercetti is said to be at his peak 6'4" although 6'3" is his height in 1986.
Date of birth: 10 June, 1949 although some speculate 1951.
Tommy was said to be aged just 22 when he committed the murders in Harwood.
And aged 37 in 1986.
Hair colour: Dark Brown.
Eye colour: Brown.
Tommy Vercetti is depicted as both intelligent but temperamental, easily angered and quick to resort to violence. He has no hesitation about killing, though many of his victims are in turn trying to kill Tommy as well, or have done something that requires them to be killed. The story does not require Tommy to kill innocent people. Tommy does also show a softer side as seen with his relations with Mercedes Cortez and Earnest Kelly, whom he views as a father figure due to his childhood memories of working with his father at a printworks.